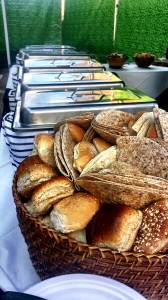 We started out 25 years ago with the aim of revamping the age-old art of hog roast cooking and make the people of Berkshire fall in love with it all over again, by incorporating our own modern approach and using only the best locally-sourced ingredients. More than two decades later, we are still doing exactly that, and we have become the leading hog roast catering company in the county. This is due to our enduring passion for what we do, our continuing commitment to using only the finest and freshest local ingredients, and our constant ability to adapt our approach to meet your needs. As proud as we are of our hog roasting heritage, we recognise the need to diversify our menus and provide other options that suit everyone's tastes.
Whether you and your guests would prefer an alternative meat to pork, or some of your diners have specific dietary requirements, we can provide whatever you need and can guarantee that everything we supply will be of the same high quality as our expertly prepared slow-roasted pork.
Our Unique Menu Variety
Whilst our unbeatable hog roasts will always be our main selling point, here at Hog Roast Berkshire we are constantly surprising our clients with the extent and variety of the menus we offer. For us, no dish is ever treated as an after-thought or secondary to the meat. From our individually handmade canapes to our range of exotic and traditional salads, every ingredient is treated with the love and respect it deserves and every element of the menu is crafted and presented with care and precision.
It makes no difference to us if we are providing a private party buffet for 20 people, a formal corporate menu for 50 employees, or a traditional wedding meal for 200 guests; our catering team will always freshly prepare every dish from scratch at the venue to a consistently high standard.
Our Versatile Approach
It isn't just the food we can be fully flexible with. Thanks to our talented chefs and multi-faceted hog roast machines, we are able to prepare any of our menus at any venue in the whole of Berkshire. Hog Roasting is obviously a great outdoor catering option, especially when you have a lot of people to feed, but our team and equipment can produce equally stunning results in any indoor venue however grandiose or intimate the space is.
Please do call us or complete our online web form to hear more about us and the catering services that we provide.